Santa Monica is a beautiful California community that boasts excellent weather year-round and a nearby beach, making it perfect for enjoying a meal outside. Whether you're catching up with a friend over brunch or taking the whole family out to eat, there are several options to choose from in the area. When searching for outdoor dining in Santa Monica, try out these five spots first.
FIG
Photo courtesy of FIG
Located at the Fairmont Miramar,
FIG
(101 Wilshire Blvd.) sources fresh ingredients from local farmers markets and specialty foragers. This creates an exclusive and variable availability for customers interested in select menu items. Due to the locally sourced ingredients, this restaurant offers a seasonal menu, keeping options new and exciting for returning customers. Open for breakfast, brunch, and dinner, the place seats guests outside next to lush palms and vegetation overlooking the Fairmont's pool.

For early risers, breakfast options like the lemon ricotta pancakes with blueberry butter are sweet meals packed with flavor. For slower weekend mornings, the brunch menu offers shareable items like the market oysters and main dish options like the smoked brisket hash and Maine lobster cobb, sure to keep you full for whatever activities you have planned. To enjoy beautiful weather under the string lights, guests can visit at night and order the lamb Bolognese or Alaskan Halibut served with local summer squash. Whether staying at the high-end hotel or living around the area, anybody in Santa Monica is welcome at this restaurant.
Ivy at the Shore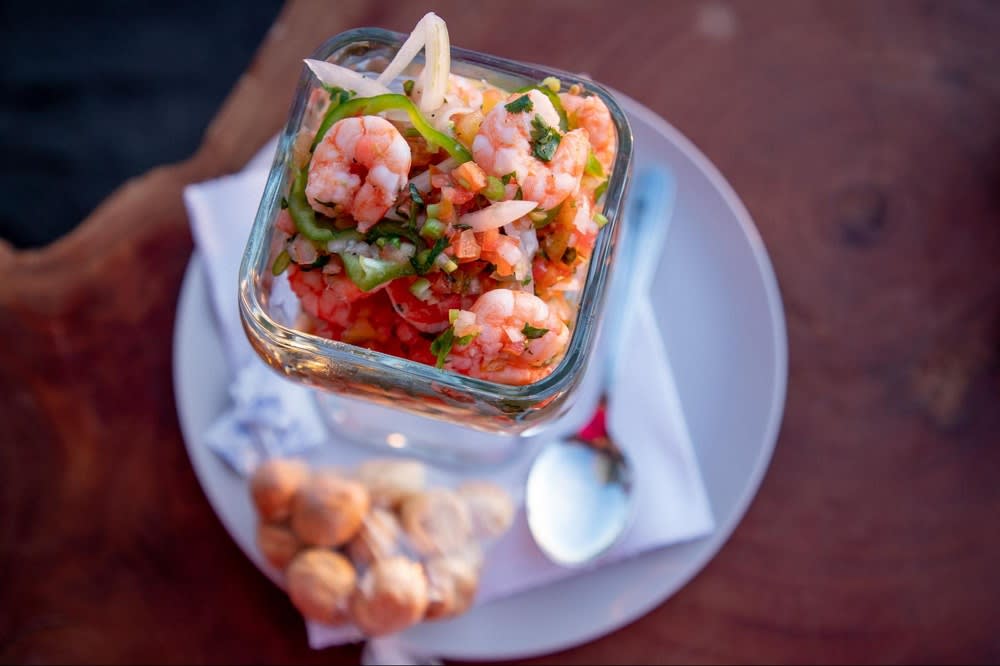 The next on this list of restaurants with outdoor seating is
Ivy at the Shore
(1535 Ocean Ave.). This spot is open for lunch and dinner and is decorated with its staple light pink walls and beachy décor. This restaurant has an indoor patio with large windows that let in plenty of fresh air and light, perfect for chilly nights. It also has an outdoor patio with wide white umbrellas for guests to sit under, admire the pink blooms, and enjoy their meals.

Before moving to the main courses, guests can select from starters like the shrimp cocktail or the Oscietra caviar for lunch or dinner. Several options include the hot seafood platter with lobster, scallops, shrimp, crab cakes, and calamari. This menu mainly showcases seafood, but there are great meat options for those who don't like fish, like the roasted Colorado rack of lamb. Guests shouldn't miss their drinks list, with several cocktails like the classic mojito and the passion fruit martini.
R+D Kitchen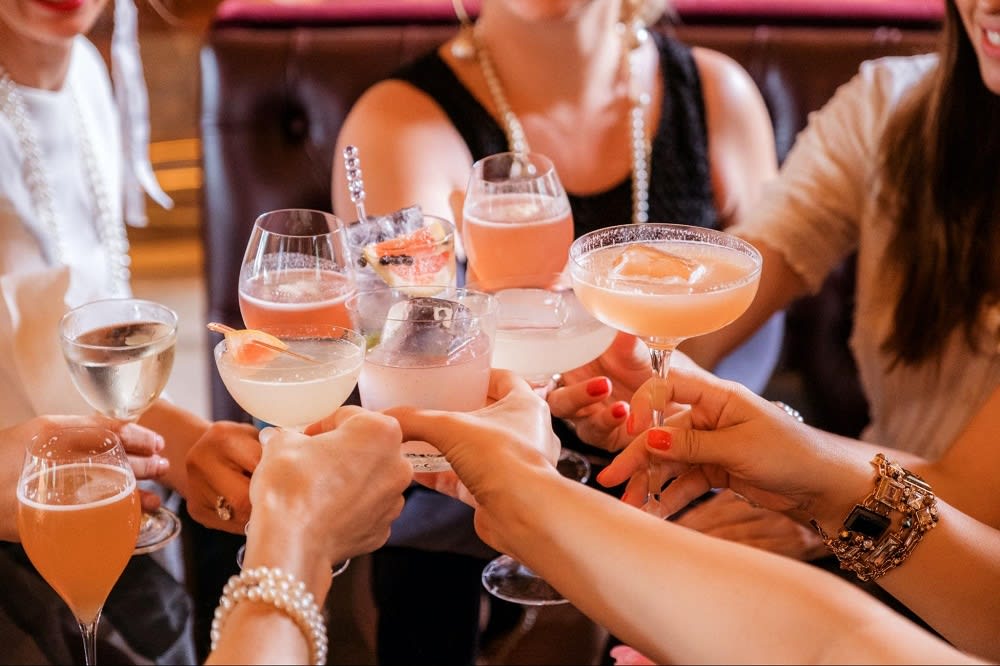 For a sophisticated meal and fresh cuisine, visit the
R+D Kitchen
(1323 Montana Ave.) in Santa Monica. This is an excellent spot for smaller parties without younger attendees looking for a great in-person lunch or dinner experience. Dress up to enjoy the warm-toned interior design or the intimate white-cloth table of the outdoor seating area, nestled within tall green trees and protected by bright yellow umbrellas. Or enjoy the high table seating next to the open-air wall of the front of the restaurant.

For lunch, guests can enjoy elevated classics like the ahi tuna burger, try out daily features like the Carolina-style beef ribs, or keep it light with the shrimp Louie garnished with avocado and café vinaigrette. The dinner menu features a few lunch options, along with new and tasty entrees like the pan-fried petrale sole and the USDA prime center-cut filet. Don't forget to check out their drinks menu, with a variety of cocktails, white and red wines, and draft beers.
Tar & Roses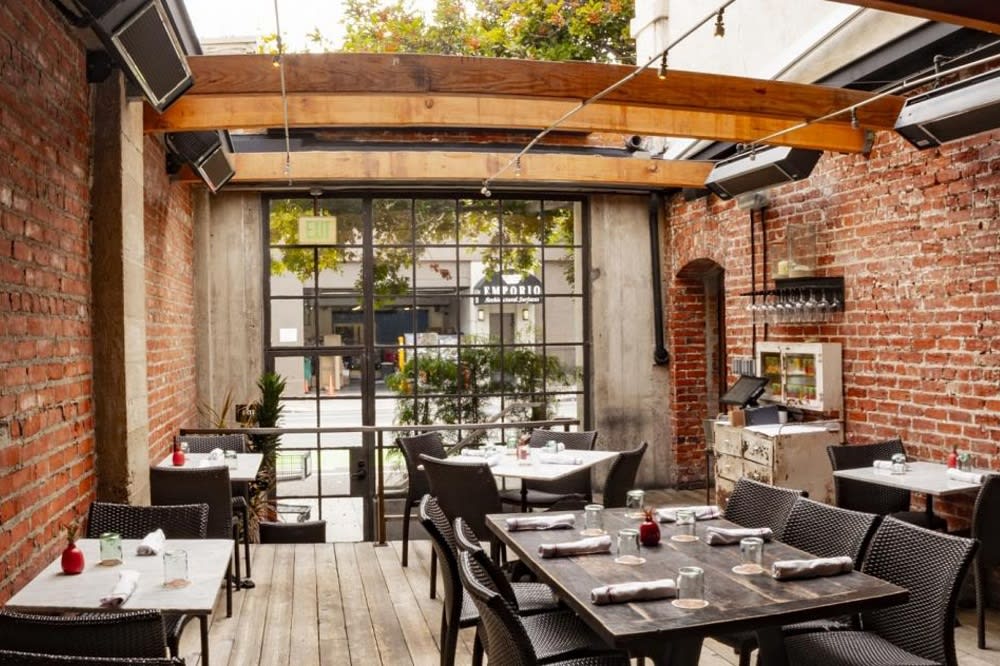 Photo courtesy of Tar & Roses
When trying out outdoor restaurants in Santa Monica, one you don't want to miss is
Tar & Roses
(602 Santa Monica Blvd.). Inspired by global cuisine, this kitchen is run by award-winning chef Andrew Kirschner. Tar & Roses uses only local products and high-quality ingredients in its changing dinner menu. Guests can enjoy the view of the stars in the open-ceiling seating room, surrounded by red brick and lit by string lights along thick wooden beams.

For a three-course meal experience, groups of four can reserve a dinner at this restaurant a week in advance, with main courses featuring proteins like wood-fired goat, Singaporean chili crab, and dry-aged standing rib rack. Start with snacks like the roasted bone marrow or oxtail dumplings before digging into plates like the duck breast or shellfish pot. Try one of their rotating draught beers, great wine list, and other hot and cold drinks.
BOA Steakhouse Santa Monica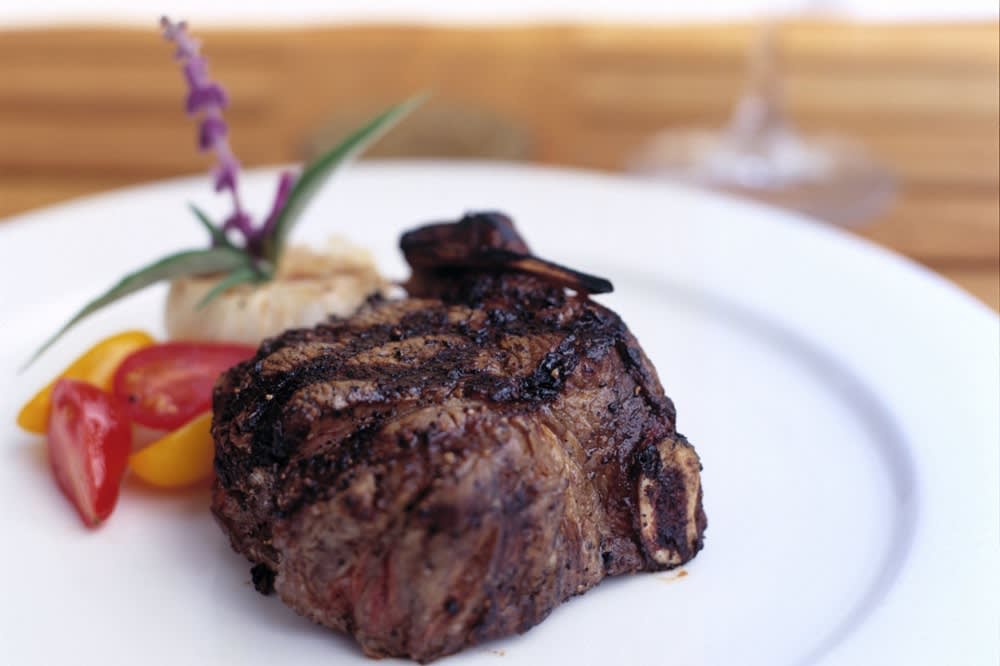 Photo courtesy of BOA Steakhouse Santa Monica
For dinner out,
BOA Steakhouse Santa Monica
(101 Santa Monica Blvd.) is an unforgettable high-end experience. Dress in your dinner best when getting ready to dine on quality and original dishes that attract the attention of celebrities and locals alike. The menu is diverse, created with quality ingredients and featuring seasonal sides. The elegant outdoor seating is perfect for people watching while shaded by a classic red ramada and lit by modern white lighting.

To begin, dinner guests can order starters like the colossal blue crab cocktail or the Petrossian Royal Ossetra caviar. The boa chop salad and cauliflower Milanese are delicious dishes for vegetarians. There are also several cuts of meat and seafood options, like the Westholme wagyu ribeye and the Chilean sea bass. Don't forget elevated side dishes like lobster mashed potatoes. Alongside the outstanding menu is an equally exceptional drink menu, with a wide range of cocktails, beers, and wines.
Ready to try these restaurants?
These are only five of the wide variety of outdoor restaurants in Santa Monica, whether you're searching for something to eat for breakfast, lunch, or dinner. When you're ready to live closer to these great spots or want to explore the surrounding food scene, contact local agent Keri White to guide you through the process.

*Header photo courtesy of Sidecar Donuts